Project Showcase
:
Sands Expo and Convention Center
PABCO® Gypsum teams up with Las Vegas contractor Pete King Commercial and Westside Building Material for rapid expansion of the Sands Expo & Convention Center.
Renovating the World's Largest Integrated Resort
Project Summary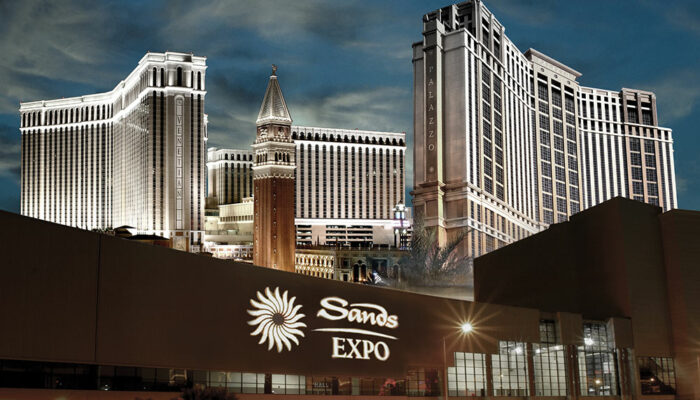 When Sheldon Adelson opened his 1.2 million sq. ft. Sands Expo and Convention Center in 1990, it was the largest privately owned convention facility in the world. It's now bigger and better, with the latest upgrades completed recently and solid operating results.
Decades of success did not happen by accident. While most Las Vegas hotels catered to the "weekend in Vegas" crowd – with minimal guest room amenities designed to encourage spending time in casinos – Adelson opted for more luxurious accommodations. His Sands facilities have nothing but luxury suites and modern accommodations to attract a wide range of business and professional organizations. The strategy keeps mid-week occupancy strong and delivers greater bottom line returns from conventions than from gambling.
Today's complex has come a long way since the original hotel opened in 1952. The Sands Hotel quickly gained popularity with the Hollywood crowd after giving birth to the Rat Pack (movie stars Frank Sinatra, Dean Martin, Sammy Davis, Jr., Joey Bishop and Peter Lawford) and was the location of the original 1960 film, Ocean's 11. In 1997, the Sands was replaced by the Venetian, a Five Diamond luxury resort. After a decade of success, the property expanded with construction of the Palazzo Resort Hotel next to the Sands Expo Center.
Together, the Sands Expo and Convention Center, Palazzo and Venetian make up the world's largest integrated resort. It includes over 2.3 million square feet of convention and exhibition space, 7,000 guest suites and a wide array of shopping, dining and entertainment options. Inside the Expo Center, numerous enhancements began taking shape in mid-2012.
Convention Center Events Pose Unconventional Renovation Challenges
It wasn't your typical job, reports Byron Lacey, Director of Operations for Las Vegas contractor Pete King Commercial, which handled drywall installation* on three Expo Center levels including the main exhibit hall, meeting rooms and other areas. "Framing and hanging had to be done around the conventions going on elsewhere in the facility. About 80 percent of our work was completed in the first six months, often working around the clock."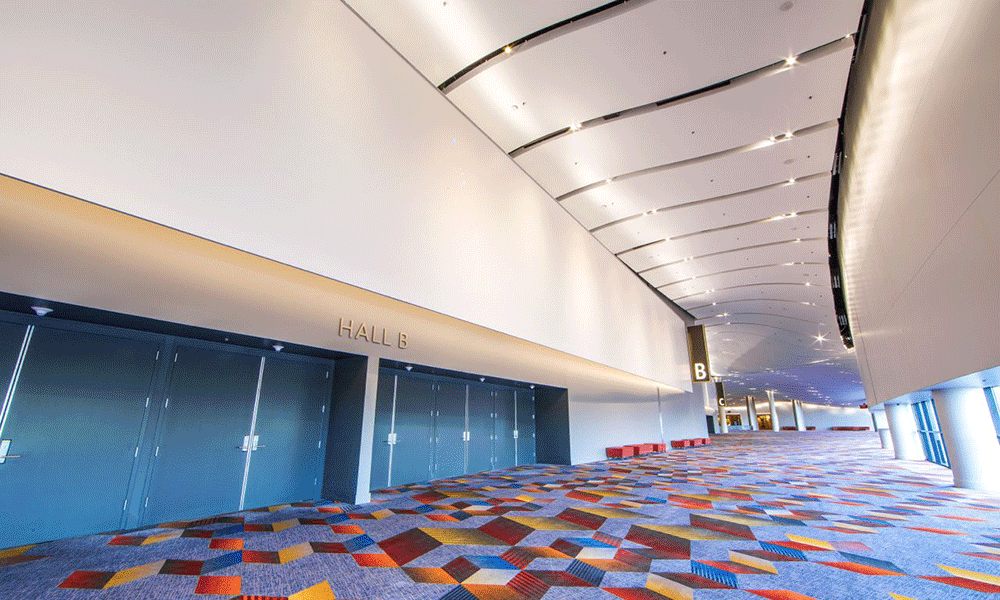 Westside Building Material supplied PABCO® Gypsum for the project, and General Manager Jon Conard concurs. "The rush was really on; we made a lot of off-hour deliveries."
"It was a massive project," adds Westside Operations Manager Don Nadeau, "Truckloads and truckloads of semis drove into the facility to offload – that's how big it was. We delivered about 575,000 sq. ft. of PABCO board."
While Type X, 5/8 in. PABCO FLAME CURB® made up the bulk of the deliveries, other gypsum panels used included PABCORE® Shaftliner – ideal for elevator bays, with its proprietary fire resistant Type X core reinforced with glass fibers – and PABCO WATER CURB® for the restrooms.
Although most drywall work was relatively routine, Nadeau notes that some areas required special framing. Also, "a lot of radius walls had curves, bends and angles. It looks very sharp." The curved, undulating Sands Expo Center lobby ceiling was fabricated and installed by The Raymond Group.
Tight Timetable, Potential Penalties Drive PABCO Gypsum Choice
From Lacey's perspective, PABCO was a must for this project "because of how quickly we used the board, how much we needed and stocking availability. If you go into a project like this with a tight schedule and high liquidated damages, then have to wait a week to get board, you're done. We would have had a tough time without PABCO."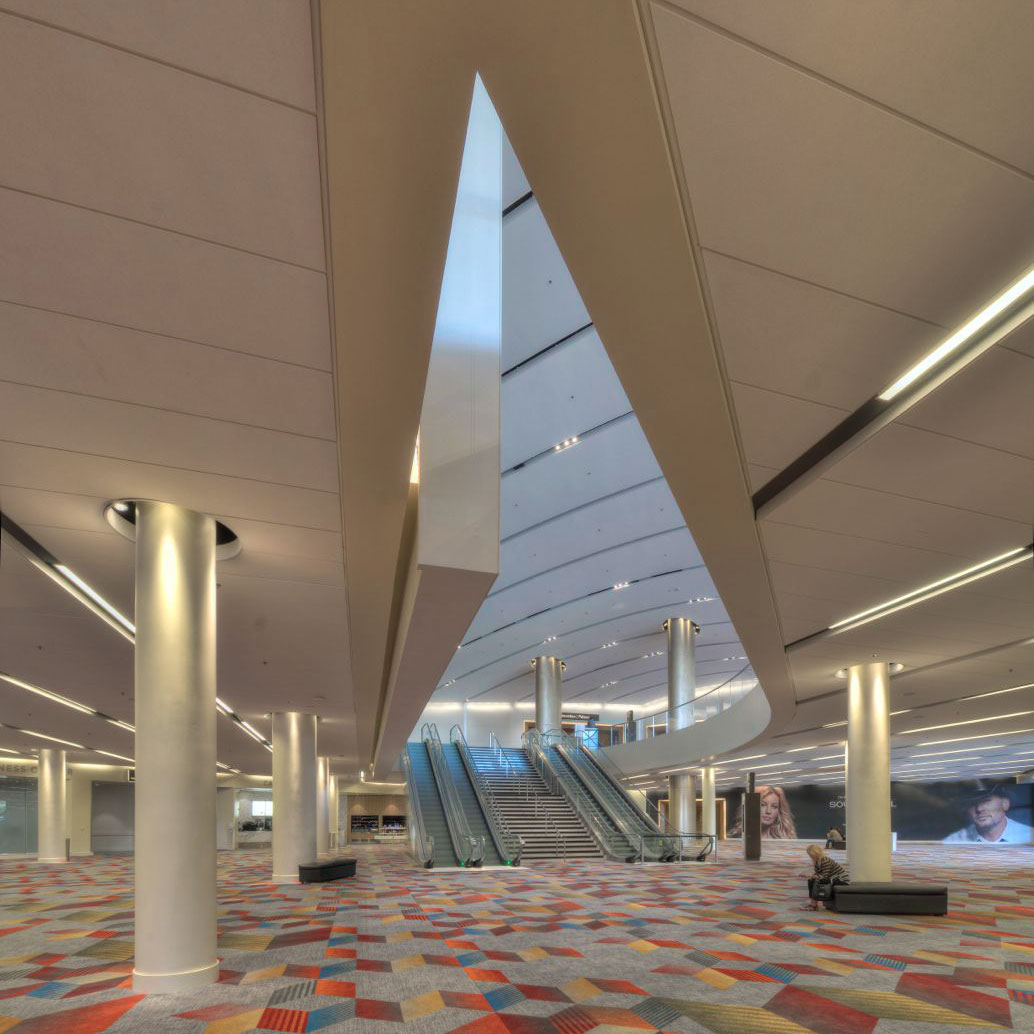 Many architects in the eastern U.S. that are designing buildings in the west are not familiar with PABCO Gypsum. That's why Pete King Construction puts in a substitute request for PABCO products on about half of its projects, according to Lacey.
"It's worth the effort," the 30-year Pete King veteran asserts. "We started using PABCO about 17 years ago, after having delamination, blistering and service issues from other manufacturers. We changed to PABCO because of the quality and have never had a problem with their board. Now we use it on about 98% of our jobs – hospitals, apartments, condos, hotels, malls – everything."
"Our company's been around for 65 years and we've worked with a lot of people," Lacey sums up. "We're as happy with PABCO and Westside as we could be."
Judging from the renovated facility's appearance, the renewed flow of events and attendees, the Sands Expo and Convention Center executives are pleased, too.