Project Showcase
:
Fort Sam Medical Training Campus
STC and floor space key for Fort Sam Houston's new Medical Education Training Campus dormitories.
Creating Quiet Barracks for Historical Military Base
Project Summary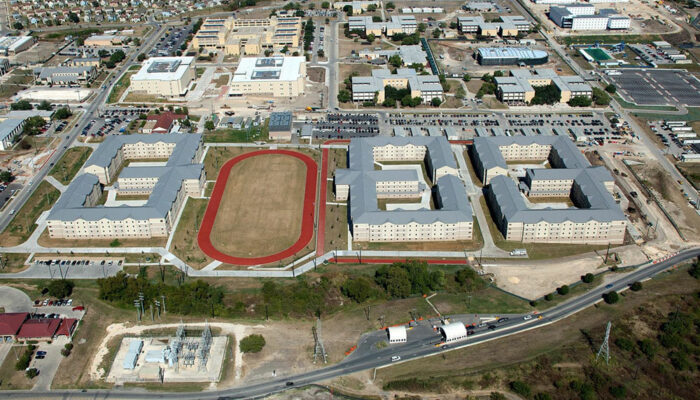 Fort Sam Houston in San Antonio, Texas is the world's largest military medical training facility. More than 27,000 military and civilian personnel work at this U.S. Army post, and funding for construction projects on post average $30 million annually. A National Historic Landmark, and one of the Army's oldest installations, Fort Sam Houston boasts the largest collection of historic structures – more than 900 buildings.
With an eye on keeping the historical integrity of the post intact, the first of four new construction projects is the development of the post's new METC (Medical Education Training Campus) dormitories. These units house up to 2,400 military medical personnel for short-term training and education. Additionally, construction is scheduled for 1,200 apartments over the course of the next year.
STC and Floor Space Key
There were two key design factors that needed to be addressed in order for this project to be successful.
The project needed to meet the STC rating in compliance with the U.S. Army Corps of Engineering standards, and create internal floor space allocated per soldier to exact standards. Because there were external building limitations, the traditional method of using resilient channel would have eaten into floor space, and was not considered a viable option. Fort Sam Houston turned to QuietRock® to allow the project to conserve space as if they were using regular drywall.
Construction of the 682 modular sections that comprise the METC dormitories were completed offsite using PABCO Gypsum's QuietRock sound reducing drywall.
There were a number of technical challenges to face in order to be in compliance with the Army Corps of Engineers:
Create an STC rating of 50 in a location where nearby training can include base artillery, tank, air, and chopper noise
Guarantee the exact specified amount of livable square footage per soldier while dealing with exterior building constraints
Ease of assembly was needed for the modular housing to be created in one facility and assembled on post
Obtain points toward LEED Certification standards
The Quiet® Solution
QuietRock products help create quiet living spaces in noisy, densely-populated areas like military posts while providing a low total cost means of achieving noise reduction. Use of QuietRock products directly supports sustainable zoning approaches to land use by reducing material use.
QuietRock was implemented by the builder in a production line environment, and assembled similar to regular gypsum board. The STC rating specified was achieved without sacrificing living space.
Additional benefits Fort Sam realized by the use of QuietRock included:
Reduced labor costs because the implementation used less material than a standard resilient channel implementation
Saved time as a result of fewer steps in the implementation process when compared to building with resilient channel
No need for installation training which also reduced labor and installation costs
Points towards LEED Certification
Fort Sam Houston was designed to meet LEED Silver Certification standards. Based on LEED-NC, QuietRock can potentially assist architects and designers in obtaining MR4, MR5, and MR6 credits toward LEED Certification.*
*LEED credits were calculated using the LEED 2.2 model.