Sharp Drywall: A Recipe for Success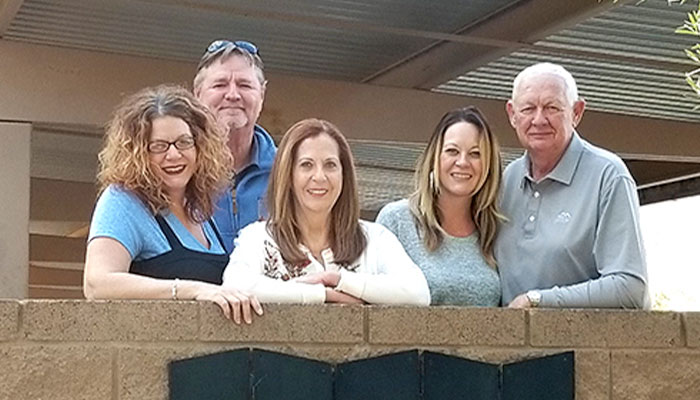 Founded by Jim and Melinda Sharp in 1990, Sharp Drywall Inc. specializes in drywall installation for single family tract homes in the Phoenix metro area. The company has drywalled more than 100,000 homes since its inception working with prominent builders such as Shea Homes, Fulton Homes, Lennar, Corset, Monterey, Meritage and Taylor Morrison. He and his family (wife Melinda, daughters Jaime and Shanna) along with Dale Horine, their general manager, run the business.
Relationships build business
Jim was raised in central Idaho on a cattle ranch where he learned the discipline of hard work. That strong work ethic and focus on keeping good relationships have been the foundation of Sharp Drywall's success. "Relationships from the very first day is what built our business and has kept it going all this time," says Jim.
Sharp Drywall became a PABCO® customer 13 years ago with a promise and handshake from PABCO's Phil Kohl and DonnaSue Mims. From that opportunity, it became a partnership that has grown year over year.
Mutual support key to success
PABCO's dedication to the business includes the development of two wallboard products specifically to meet the needs of Sharp Drywall. The first request was for a round edge ceiling board as Jim had discovered that a round edge reduced cracking in ceilings by 90 percent. PABCO® produced that board for Sharp Drywall and now offers that option in our product portfolio.
A few years later Jim asked PABCO® to produce a 3/8" thick board for bending radiuses. PABCO® worked with Jim and general manager Dale Horine to develop the board which is now our PABCO® Flex Gypsum Panel.
Over the years Jim has helped promote PABCO® in the Phoenix market beyond his own business and the relationship has benefited both companies. Jim's accomplishments have helped us all see how hard work and keeping a good relationship is a recipe for success, which dovetails into PABCO's core principles and mission statement.