Release: PABCO® Gypsum Announces 2022 Edition of The Sound Design Guide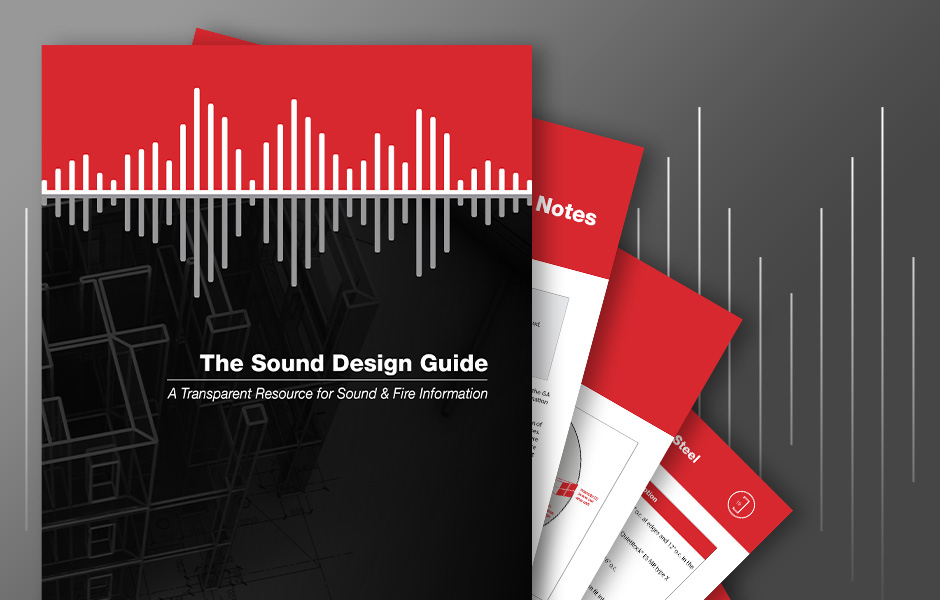 Includes New Designs, New Wood Stud Section, Updated Tests and More
PABCO® Gypsum announces the latest edition of The Sound Design Guide. The most comprehensive, transparent resource for sound and fire information in the industry has been enhanced with new designs, a new section on 2×6 wood stud framing, updated tests and much more.
New wall designs have been added throughout the 2022 edition to provide more assembly options for construction professionals. The 74 new designs bring the book's total to 177 sound and fire tested assemblies on different steel and wood-framed partitions, using various stud thicknesses, configurations, and materials. "You will find assemblies in our guide that use combinations of traditional gypsum wallboard and our QuietRock® sound reducing drywall. We test both fire and sound on the same design, so you don't have to guess the STC (Sound Transmission Class) performance when you build to the fire-rated designs," says Mike Amaral, Manager Architectural Sales, PABCO Gypsum.
STC results can further be affected by mil thickness of the steel frame design. This led to the guide's further emphasis on mil thickness rather than gauge. "We found that the specification of steel gauge can be problematic for accurate sound isolation design in buildings," says Shafer. "Steel framing may be listed as 20 gauge; however, 20-ga steel can range from 19-mil thick up to 33-mil thick. Our testing has indicated that there is a very large difference in STC rating and STL performance for this large range of steel thickness. Steel gauge is, therefore, not an accurate, nor useful specification when it comes to sound isolation design."
As the number of designs continue to increase in The Sound Design Guide, it is important that the numbering system be easy to follow. That led to the development of a new set of numbers for the designs which make it easier for construction professionals to find the design they need. "We've developed a numbering system that provides more insight into the design. You will be able to identify the stud type, configuration and spacing, just from the number," says Amaral.
Other enhancements include updated tests on current assemblies and an enhanced educational section with additional sound and fire information.
The 2022 Edition of The Sound Design Guide is now available. You can pick up a copy at the QuietRock by PABCO Gypsum Booth #225 at HCD Expo or download it online.
About PABCO® Gypsum
Family owned and operated, PABCO® Gypsum has been providing high performing gypsum panel products and superior customer service throughout North America for nearly 50 years. The company produces a broad range of gypsum panels for residential and commercial applications including mold, fire, glass mat, sound- and impact-resistant boards. This includes QuietRock®, the first and most technically advanced sound reducing gypsum panel in the industry. PABCO® Gypsum, along with PABCO® Paper and PABCO® Roofing Products are divisions of PABCO® Building Products LLC that services the building industry in the United States and Canada.
###