Contractor Spotlight: West Coast Drywall Construction Inc.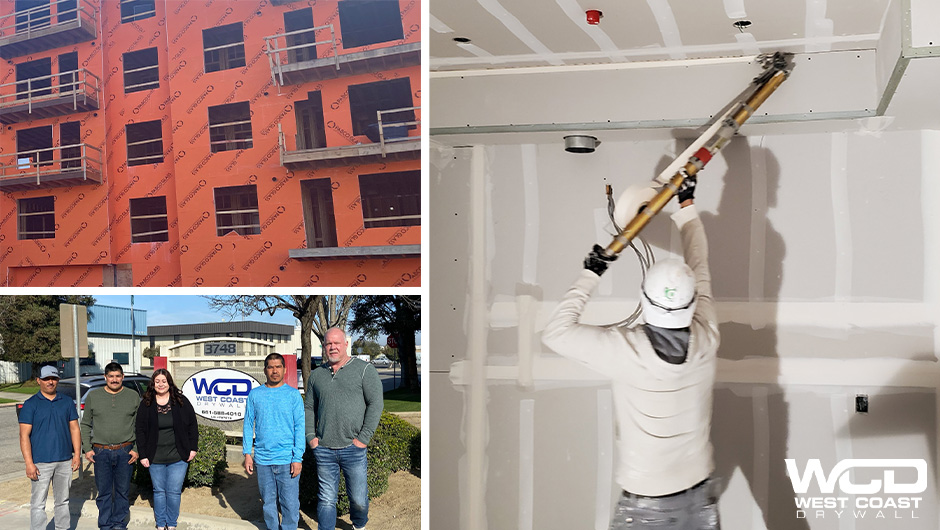 West Coast Drywall Construction Inc.
Dependable Trade Expertise, Service are Key in This Business
When it comes to building relationships with builders West Coast Drywall has what it takes. Good service, dependable tradesmen, and accurate assemblies are key in this business," says Keith Raedy, President/Project Manager for West Coast Drywall who has been involved in the industry for 35 years.
West Coast Drywall Construction Inc. (WCD) is a commercial drywall company operating in Bakersfield, California. With over 30 years of experience (founded in 1992), WCD has established itself as a premier commercial drywall contractor with a growing presence in multifamily and hospitality construction. The company specializes in all phases of metal stud framing, gypsum board systems, drywall, plaster and EIFS systems.
WCD attributes its success to teamwork between WCD, the architect and general contractor. "We hold weekly construction meetings working together to ensure the success of the projects," says Raedy.
Below are a few of the projects the company has worked on installing the metal stud framing, interior and exterior gypsum. WCD has experience in constructing various building types–from Type 1 to Type 5, IBC Building Construction Types for Combustibility.
Nevis, a 271 Unit Podium in Richmond, CA with two buildings side by side. A Type 3 project that required several fire-rated assemblies. PABCO was a big help with this project, according to Raedy, given their involvement with the GA in creating the fire-rated assemblies.
Alexander Station, 370 Unit Podium, Gilroy, CA. Also, a Type 3 project with more restrictive safety requirements to protect the units in the building with multiple floors, stairwells, and elevators.
Redwoods at University at Rohnert Park, a 240 Unit, three- apartment building. A Type 5 project which is less restrictive allowing for more freedom for builders.
Throughout their projects WCD uses PABCO wallboard exclusively, with the only exception being availability. That's due to the good working relationship they have with PABCO, according to Raedy.
"Rusty Riley (PABCO's Southwest Regional Sales Manager) is phenomenal in reaching out to customers and identifying which way the market is going in the future for WCD." They've also worked with PABCO's technical team quite a few times to problem solve on fire-rated assemblies with owners and architects. "PABCO helps us to control costs and get the job done on time."
"We don't get that kind of service from anyone else in the industry," says Ready. "We prefer PABCO based on the support we get throughout the year—they value their clients."